In memoriam
Judith Mason

1938 – 2016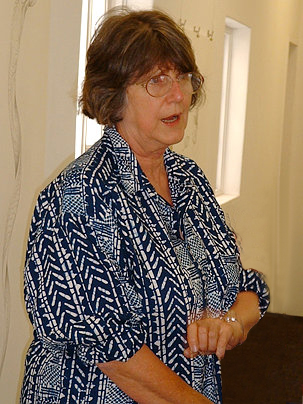 Judith Mason talking at Gallery AOP in 2015
It is with a heavy heart that we share the sad news of Judith Mason's unexpected passing on 28 December 2016.
Judith Mason had a close working relationship with our gallery, and she did four exhibitions with us, of which two were important solo exhibitions (information below). Although our gallery is officially in recess, Judith requested in September 2016 that she would like to proceed with her next solo exhibition in collaboration with Alet/GALLERY AOP in 2017. This would have been a comprehensive exhibition of new work, including drawings, paintings, installations and artist's books and the last big show that she planned before scaling down. Just ten days before her death we finalized the date for this exhibition. "This work is very important to me, and something of a swan song, and the thought of going it alone, without the AOP brand of sensibility and warmth really intimidates me…" she wrote.
Judith Mason's sudden death was an enormous shock and the finality of it is difficult to comprehend.
Her drawings stand evidence to her masterful draughtsmanship and displayed her unique and fine artist's sensibility, her brilliant intellect and vast frame of reference, which she drew on to enrich her work and entice her viewers to new levels of seeing and enquiry. Judith was close to the hearts of thousands of South Africans and somewhat of a cult figure for people of all age groups - it was noticeable, though, that the younger generations of art enthusiasts were especially inspired by her work. With openings of Judith's exhibitions, or whenever she gave public talks, we had to make special provision to accommodate the enormous public interest that she and her work commanded – crowded events and sell-out exhibitions was the norm!
It is a privilege to have worked with such a fine, generous woman – an artist, individualist, intellectual, sage, teacher… It was one of the high points in my career as a gallerist to work closely with Judith in curating her solo exhibitions in the gallery space, each of us using our different sensibilities to mount her seminal, memorable exhibitions.
Farewell, Judith.
SOLO EXHIBITIONS
Solo exhibition
2014
It's All About Me
Solo exhibition (paintings, drawings, a tapestry and installations)
Extract from 2014 press release: GALLERY AOP is proud to present Judith Mason's solo exhibition, It's all about me, following after her seminal Rictus Sardonicus show at the gallery in 2011. The title of her new exhibition resonates well with that of Mason's retrospective exhibition, A Prospect of Icons, at the Standard Bank Gallery in 2008. Implied in the title of the retrospective was the notion of stock taking of the way Mason explored the various symbols and imagery in her work, executed in a vast array of mediums, over a long and creative artistic career. In her present show, she confirms her luminous, personal iconography.
Although overt self-portraits - it's all about her, after all - are subtly integrated in the general, vast array of subject matter Mason deploys on the picture plane, it is really the covert, hidden ones that fascinate in her new body of work. In this regard Mason dons a mask in many of the drawings. The mask obviously hides the self, but more importantly, it intimates a continuous process of transformation and regeneration. And so it is in the numerous ways humans and animals are altered and transformed that one finds the richness of her new work.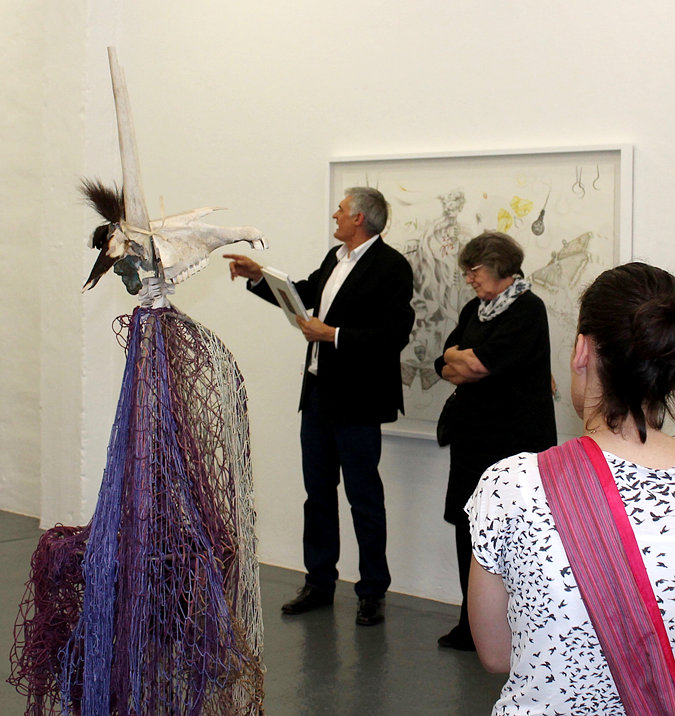 Exhibition opening, March 2014
Solo exhibition
2011
Rictus Sardonicus: Mouthpieces and other things
This exhibition was accompanied by a 20 page full-colour catalogue. At the time Judith remarked that this was her first catalogue produced for a commercial exhibition, which seemed so incredulous at the time, given her long and active career!
Extract from 2011 press release: "This is Judith Mason's first solo exhibition since her seminal retrospective exhibition, "A Prospect of Icons", at the Standard Bank Gallery (2008). In her present show, she adds yet another image cluster to her luminous iconography: that of the grinning, open mouth with bared teeth, aptly called "Rictus Sardonicus". "These drawings/mouthpieces" says Mason, "is a response to a delightful file of rictus tooth x-rays sent to me by a collector friend, Dr Shaun Beecroft, who is a trauma surgeon in the UK. These anonymous images suggested distinct personalities, and not just skeletal heads, as some of them presented themselves as mischievous or monstrous, and the fracturing and occasional prosthetic hardware added an extra frisson to the subject matter. When I drew from them, using the plates and a light table, I began to see that some sets of teeth conveyed power or malice, and when I juxtaposed sets of teeth against or opposite each other, particular narratives suggested themselves."
The narratives in her new drawings revolve around many faceless character types in what can only be construed as fabulously fabricated plots. Commandant, prophet, artist, or the self, dramatist, reliquary seller, manipulator, are just some of these types she draws into her narratives. "The teeth in the Commandant are his fighting force, giving effect to his words", says Mason. "Prophet, on the other hand, is toothless: his mouth is a foul and gaping orifice, inhabited by flies, to suggest the damnation he promises." The mouth of "The Prophet" is a rotting trap, containing its own destruction and the destruction of others.
The aesthetic sense in Mason's drawings is paramount, ameliorating the often ghastly subject matter she portrays.

GROUP EXHIBITIONS
A two-person exhibition with Dumisani Mabaso (1955 – 2013)
2005
An extract from the 2005 press release accompanying Judith's suite of masterly executed drawings, reads as follows:

Reminiscent of her earlier suite of work, Dante's Bestiary (1990), Judith Mason harnesses animals as 'thinking pieces' in her latest drawings on exhibition at Art on Paper. They are symbols and metaphors – never merely creaturely. As Claude Levi-Strauss once said, animals are not only good to eat; they are good to think with. Central in her new work is the hyena. Mason turns this scavenger into a muse (Acquisitive muse and Amused muse). The impatient grin, the snarling teeth, the glowing eye not only characterize the animal; it also offers the viewer the chance of witnessing the creative process itself. With the same tenacity, with the same disregard for human feeling, Mason's beast gnaws its way through whatever matter, digests and spits it out in the form of one of her exquisitely fine drawings. She is simultaneously offering us process and product in each work.
Of her processes and work Judith Mason says:
I paint in order to make sense of my life, to manipulate various chaotic fragments of information and impulse into some sort of order, through which I can glimpse a hint of meaning. I am an agnostic humanist possessed of religious curiosity who regards making artworks as akin to alchemy. To use inert matter on an inert surface to convey real energy and presence seems to me a magical and privileged way of living out my days.
Textured Translations: the Stephens Tapestry Studio
2015
Judith Mason had four tapestries available on this exhibition. She had a long and close relationship with Marguerite Stephens and has produced many tapestries in collaboration with Marguerite.
Exract from the exhibition catalogue: "The celebrated tapestries for Durban's Royal Hotel designed by Judith were commissioned in 1978. These were 3 metres high and 33 meters wide, divided into sections of 3 metres each. ''Judith is a very meticulous person, mostly preferring to develop the cartoon herself,'' says Mags.
Typically, Mags would do the tracing of an image onto a clear sheet of film, carefully annotating the various colours and their different shades. Judith did all that from the outset: "'Probably because it was drawing a drawing again, or making a drawing from one of her paintings, ending with a drawing rather than starting with one.''
What is of special significance about the Royal Hotel tapestries, apart from the phenomenal size and the rich symbolism of its imagery, is the fact that Mags and Judith experimented with using the warp threads as part of the final work: these were plaited, knotted, twisted and allowed to fall like half-drawn curtains across the picture plane of the tapestry."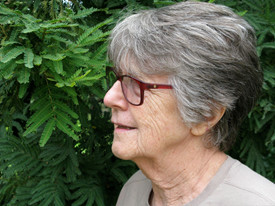 Selfie by Judith Mason for inclusion in the catalogue
ARTIST'S BOOKS AND BOOK LAUNCH
Book Art: Artists' Books
2014
Three artist's books by Judith Mason were included in this exhibition: Skoelapperheuwel, Skoelappervrou, A Dante Bestiary and Resurrection Book.
Skoelapperheuwel, Skoelappervrou: A poem by Wilma Stockenström with illustrations by Judith Mason
2010
Extract from 2010 press release: An artist's book that appeared to have been lost since 1988 has recently been rediscovered in Johannesburg. The book, consisting of a poem,' Skoelapperheuwel, Skoelappervrou' specially written by Wilma Stockenström for the publication, is illustrated by acclaimed artist Judith Mason. It has never been published in an anthology before and will be launched at GALLERY AOP on Saturday, 4 September as part of the Mail & Guardian Literary Festival.
The poem, in Stockenström's inimitable style, described by theorists and critics as 'ironic realism', is about the origins of the creative process. Mason's visceral, yet lyrical illustrations take on the shape of original pencil drawings, re-worked photolithographic images, lithographs, and collages of lithographs. The poem was translated from the Afrikaans by Malcolm Hacksley and Casper Schmidt in 1989 and the translation appears as a loose insert.
The book was printed on a lithographic etching press on 250gm Rives BFK paper by Bruce Attwood of the former Broederstoom Press. It is hand stitched and bound in natural linen, and placed in a slipcase made by Peter Carstens of Johannesburg. The text was set in Visigoth, a font specially designed for the book by Cynthia Hollandsworth of Alpha Omega Typography in New York.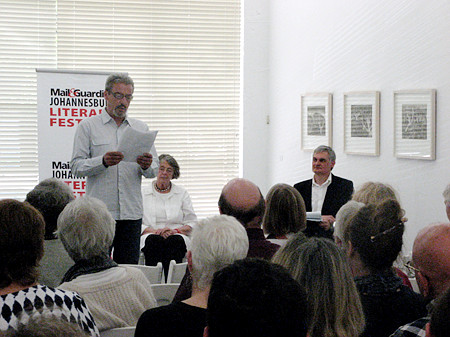 Dawid Minnaar reading at the launch of Skoelapperheuwel, Skoelappervrou
as part of the Mail & Guardian Literary Festival. September 2010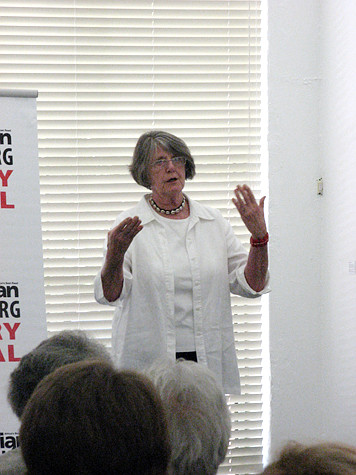 Judith Mason talking at the launch of Skoelapperheuwel, Skoelappervrou, September 2010